BioAstin Hawaiian Astaxanthin
Regular price
Sale price
$35.49
Unit price
per
Sale
Sold out
The super strength 12mg BioAstin Astaxanthin is the best way to get your daily intake of astaxanthin all in one simple dose. Antioxidants are important for human health, and astaxanthin is among the most powerful antioxidants on the planet. When taken daily, users receive a wide range of health benefits they're most likely not getting through their regular diet.
Read our BioAstin testimonials to see what our customers are saying.
Directions

Suggested serving size: 1 gelcap daily with food. At the recommended dose, the 50 gelcap supply lasts one individual for 50 days.
Supplement Facts

Supplement Facts

Serving Size: 1 Soft Gel

Servings Per Container: 50

 

 

 

Natural Astaxanthin
(from Haematococcus pluvialis microalgae)

12 mg

**

 

* Percent Daily Values are based on a 2,000 calorie diet
** Daily Value not established.

Other Ingredients: High Oleic Safflower Oil, Gelatin (bovine), Glycerine, Purified Water, Vitamin E (natural mixed tocopherols from sunflower oil).
Share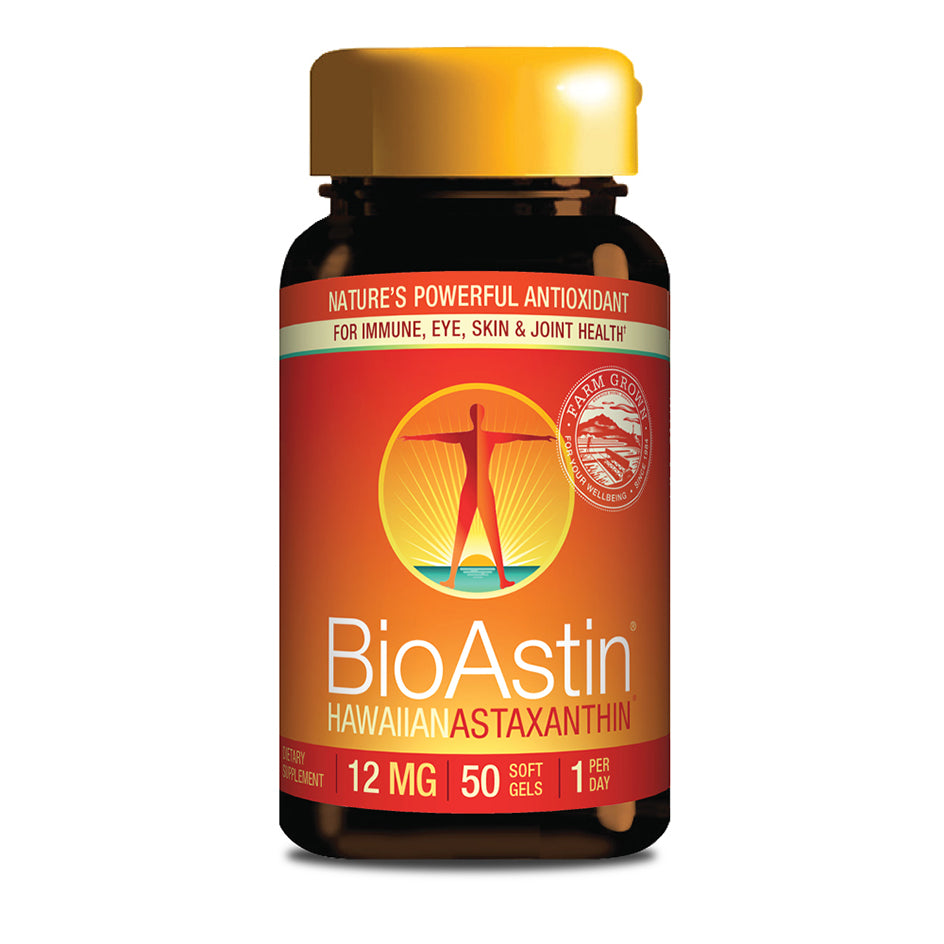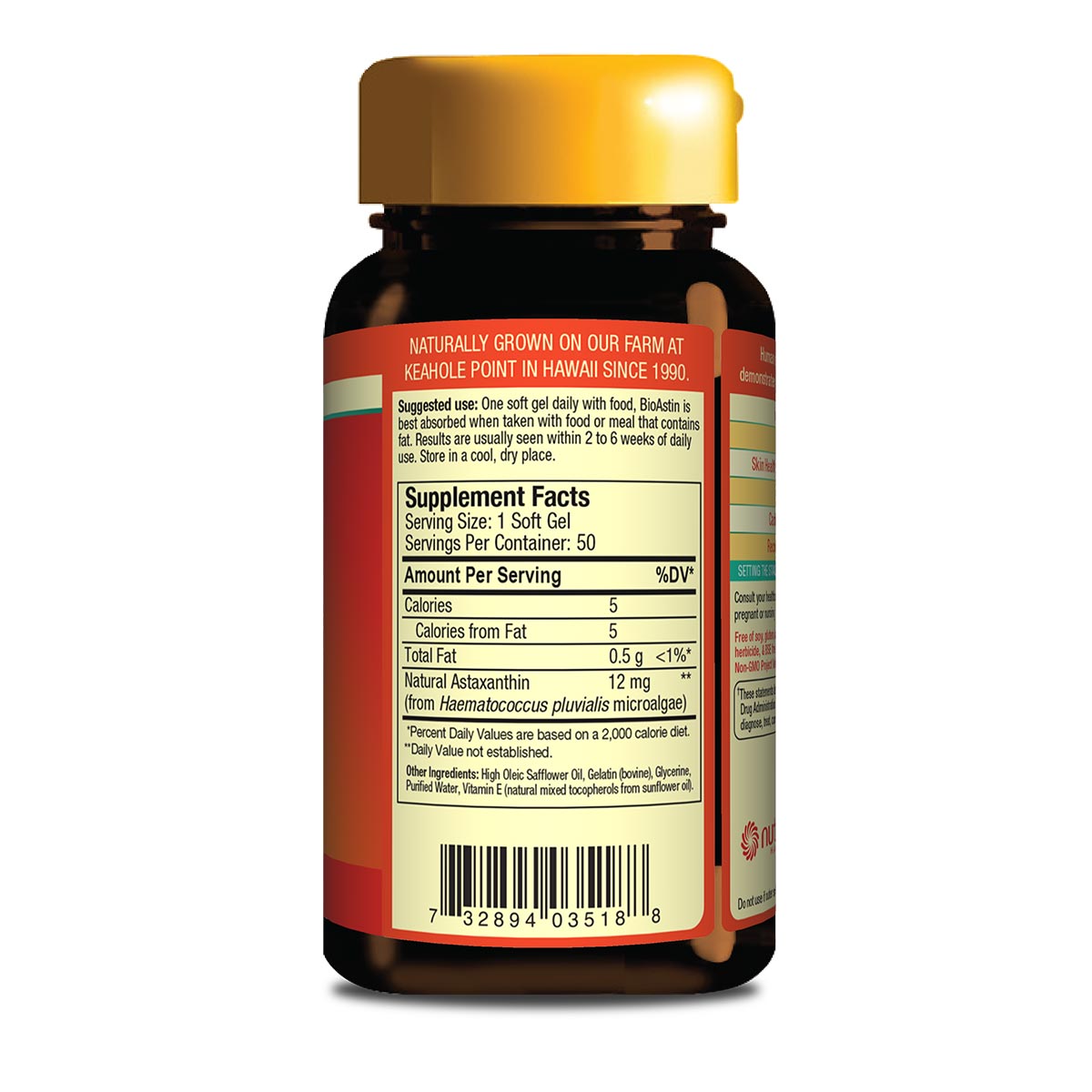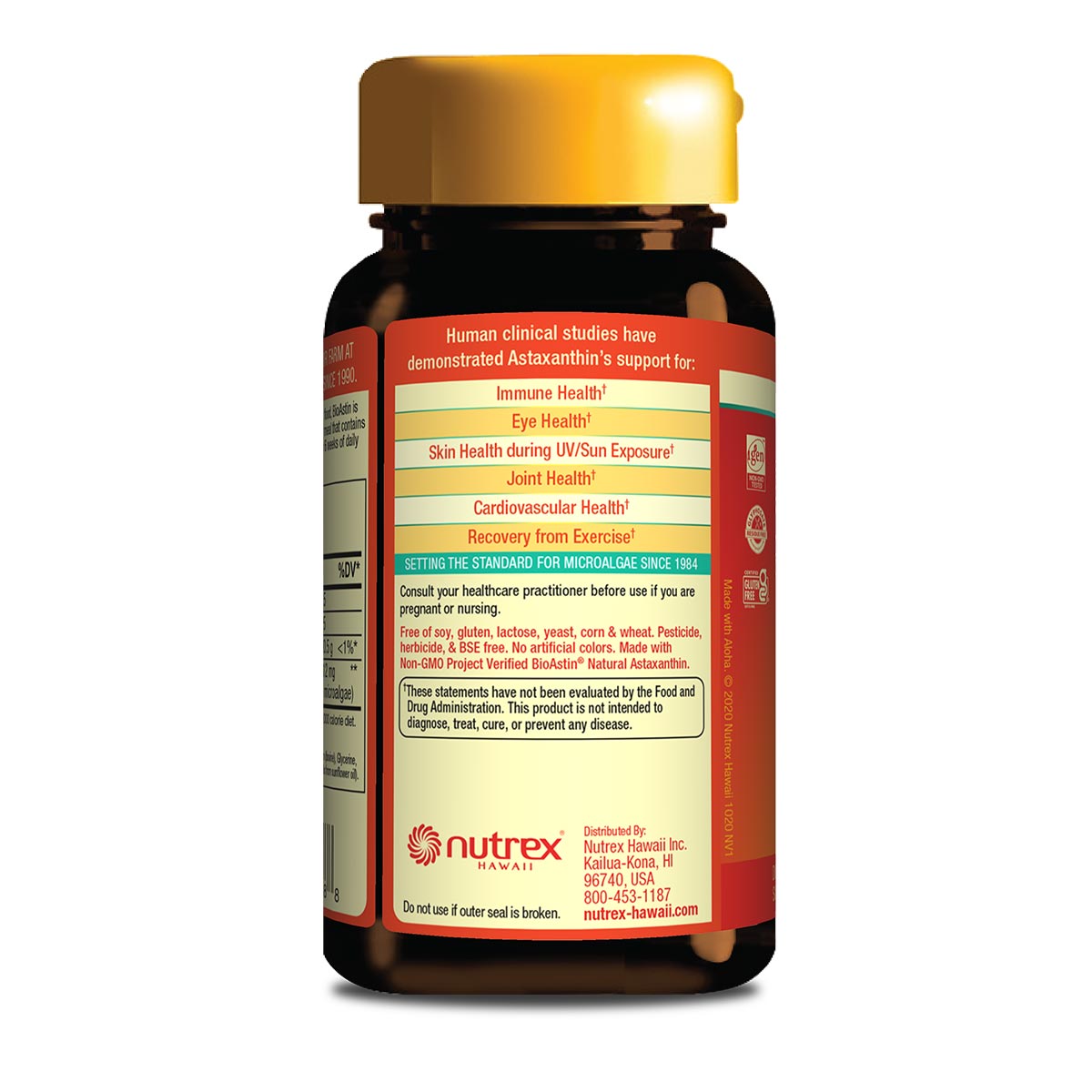 Nature's Powerful Antioxidant — Microalgae for Macro Effectiveness
Natural Astaxanthin from our Hawaiian farm – for your wellbeing. Trusted Quality & Hawaiian Goodness.
Immune Health
Provides support to balance the immune system and works to optimize immune response*

Eye Health
Supports healthy vision and normal eye function*

Skin Health
Supports skin health during UV and sun exposure*

Joint Health
Supports joint and tendon health*

Cardiovascular Health
Astaxanthin supports a healthy oxidative balance*

Recovery from Exercise
Supports the body's normal inflammatory response after strenuous exercise*
Frequently Asked Questions
BioAstin Hawaiian Astaxanthin is a red carotenoid that has antioxidant properties and has been clinically validated in human studies as safe and natural.
BioAstin supports:
Eye and Brain Health*
Joint and tendon health*
Cardiovascular health*
Skin health*
Recovery from exercise*
Known as "the king of the carotenoids®," it is one of the most powerful antioxidants found in nature.
A 12mg gel cap only needs to be taken once daily, preferably with food. The 4mg dose may be taken 1-3 times daily. Three 4 mg gelcaps need to be taken to get the full recommended dose. (Consult your healthcare practitioner before use if you are pregnant or nursing).
It is a carotenoid that is naturally occurring in many types of marine plants and animals. It is perhaps found in the highest concentration in wild Pacific sockeye salmon but is also found in krill, algae, crab, lobster and other types of plants and animals.
Astaxanthin is fat soluble and takes several weeks to build up in one's system. Most people notice a difference in anywhere from 2-6 weeks.
Astaxanthin has shown to be significantly more powerful than Vitamin C and common antioxidants such as green tea and CoQ10.
Scientifically Research & Tested — Superior Antioxidant Powder
Customer Reviews
Vision Better
I was working in an optical department and I noticed that it supported my vision. I found that I wasn't wearing my glasses. I have noticed benefits in my joints as well. I LOVE to recommend your product to anyone that asks, "Where are your glasses?"