Regular price
$44.99
Sale price
$39.99
Unit price
per
Sale
Sold out
NEW! TurmericAstin® is the ultimate combination of two of nature's most powerful antioxidants, BioAstin® Hawaiian Astaxanthin® and Organic Turmeric Root Extract (with 95% curcuminoids).  TurmericAstin supports a healthy inflammatory response.*  TurmericAstin contains 530 mg's of Organic Turmeric Root Extract and 6 mg per serving of BioAstin® Hawaiian Astaxanthin®, plus
 5 mg of BioPerine® to maximize absorption.
   Try TurmericAstin for a healthier body and brain, as well as support cardiovascular health.*
Read our BioAstin testimonials to see what our customers are saying.
Directions

Suggested use: 1 vegan soft gel daily with food. TurmericAstin is best absorbed when taken with food or meal that contains fat. Results are usually seen within 2 to 6 weeks of daily use. Store in a cool, dry place.
Supplement Facts

Supplement Facts

Serving Size: 1 Vegan Soft Gel

Servings Per Container: 30

 

 

Organic Turmeric Root Extract
(Curcuma longa) (95% curcuminoids)

530 mg

**

Natural Astaxanthin
(from Haematococcus pluvialis microalgae)

6 mg

**

BioPerine® Black Pepper Extract

5 mg

**

 

* Percent Daily Values are based on a 2,000 calorie diet
** Daily Value not established.

Other Ingredients: Organic Extra Virgin Olive Oil, Rice Bran Wax, Sunflower Lecithin, Non-GMO Modified Corn Starch, Glycerine, Carrageenan (Seaweed), Sorbitol, Purified Water, Safflower and/or Sunflower Oil.
Share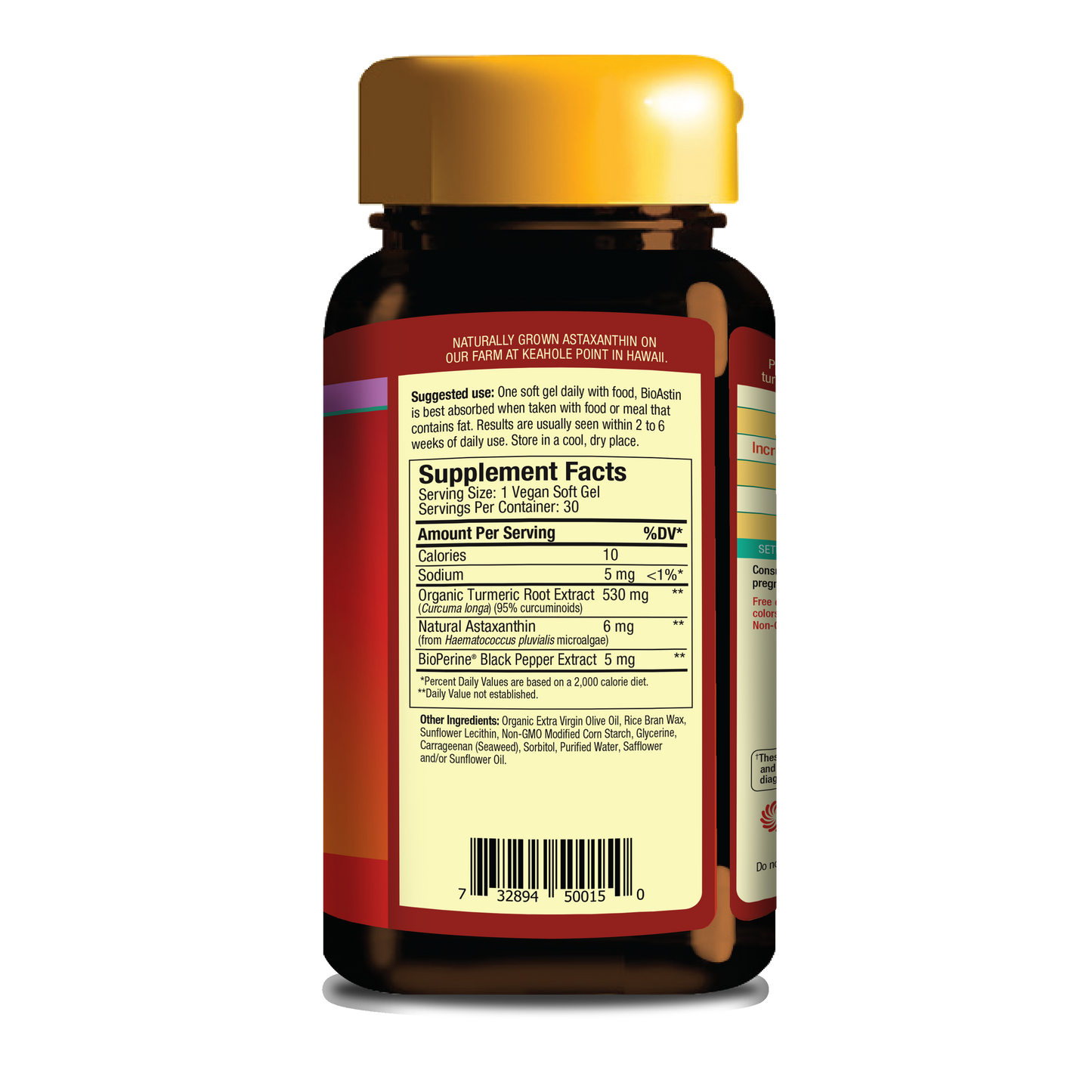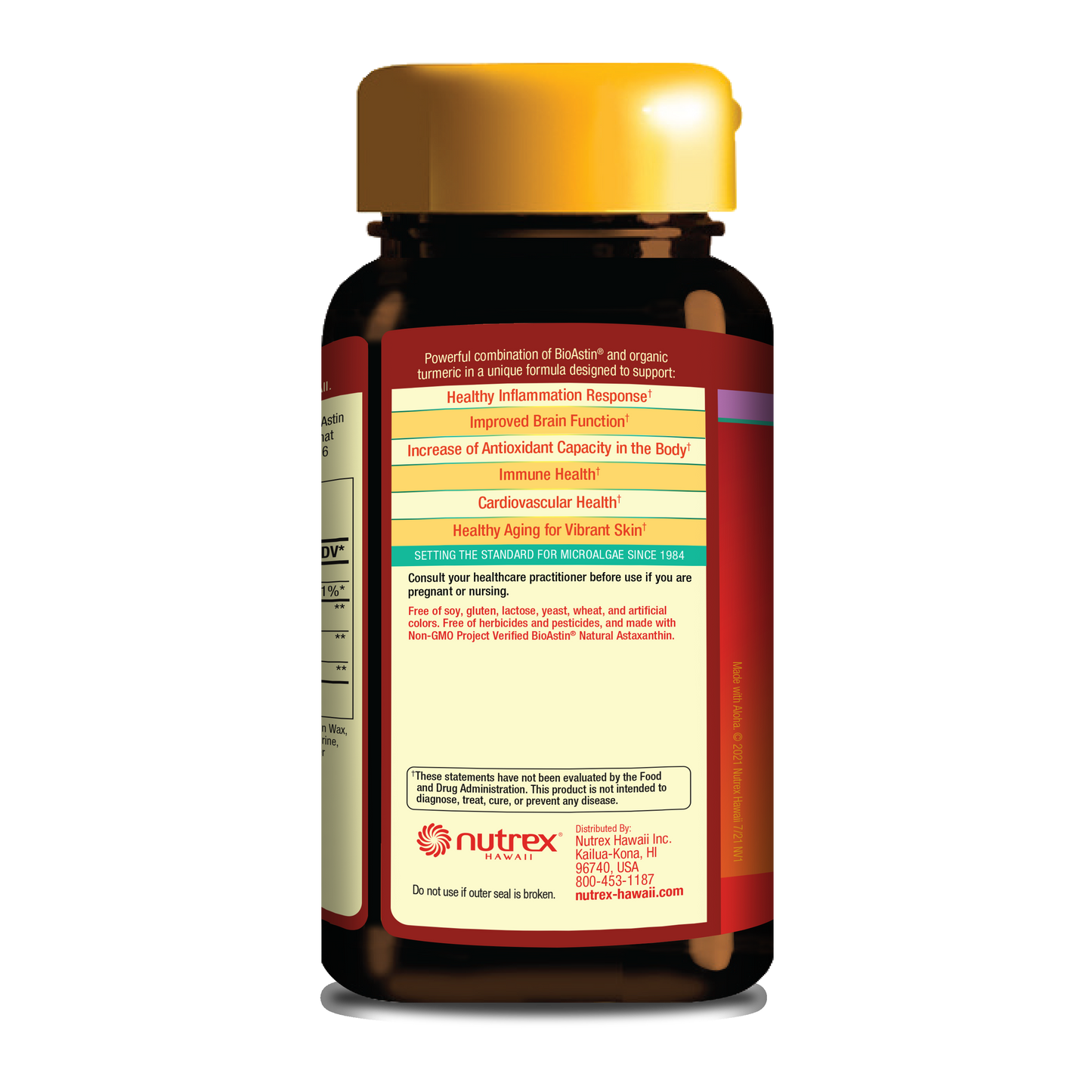 NEW TurmericAstin® - for a Healthy Inflammation Response*
A powerful combination of BioAstin® Hawaiian Astaxanthin®, Organic Turmeric Extract and BioPerine® Black Pepper extract. Two powerful antioxidants found in a convienient one per day formula.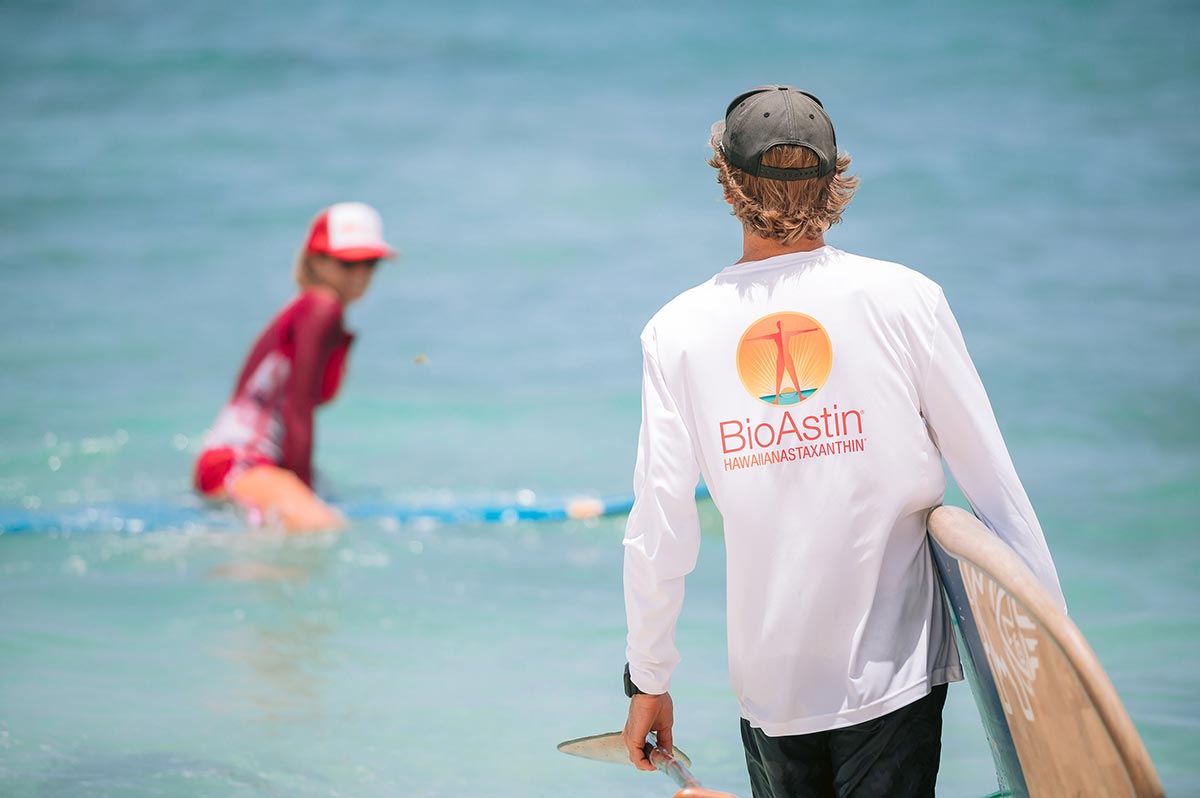 Benefits for a healthier body and brain*
Research backed product has demonstrated support for:*
• A Healthy Inflammation Response
• Improved Brain Function
• Increase of Antioxidant Capacity in the Body
• Immune Health
• Cardiovascular Health
• Healthy Aging for Vibrant Skin
Frequently Asked Questions
Just one soft gel per day is recommended to get the full daily dose.
Taking it with meals that contain fat may help improve the absorption rate.
With TurmericAstin, you'll receive a unique antioxidant combination of curcumin + astaxanthin synergy to manage oxidation in the body.
When taken as directed, the results are usually noticed between 2-6 weeks. Astaxanthin is fat soluble and takes some time to build in the system.
Astaxanthin has a wide variety of different health benefits. It is beneficial to the brain, heart, skin, joints, cells, and even to the immune system. It is the perfect supplement for any health concerned individual looking for easy ways to improve their overall level of health.*
It is special because it is a powerful and naturally occurring carotenoid red pigment that is found in mostly marine plants and animals. It is often called "the king of the carotenoids" because it is one of the most powerful antioxidants found in nature. It is significantly more powerful than Vitamin C, green tea, CoQ10 and other types of antioxidants. It should be taken by anyone looking for a simple way to improve their health.
TurmericAstin contains powerful curcuminoids, so it's more than just the spice. Curcumin supports enchanced brain function*